So around the end of last year I got to thinking, "Wouldn't it be nice to have an original cover page for one of my guides?" I contacted a good friend and huge RE fan artist, Spike, and asked him if he would do a cover image for my
Resident Evil Umbrella Chronicles Guide
. Being the hardcore RE fan that he is, he drew up some sketches then put together some amazing artwork for UC. All of the pics were put together in a comic book format. And here are the results (click for a bigger image):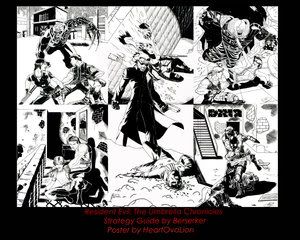 RE:UC guide will be updated Monday with url for this image.
You can visit his deviant page at the following link.
http://samuraijack.deviantart.com
He's also got up all the panels individually posted:
Wesker VS Sergei
Jill and Carlos VS Nemesis
Ada's Escape from Raccoon City
HUNK's G-virus Retrieval
Jill and Chris VS Tyrant
Rebecca and Billy VS Leeches
Here's his link for the main cover page that I posted above also.
http://samuraijack.deviantart.com/art/Resident-Evil-UC-Wallpaper-81998825